Commitment to Diversity and Inclusivity
The healthy social life is found
when, in the mirror of each human soul,
the whole community is living,
and when, in the community,
each human soul finds its reflection.
—Rudolf Steiner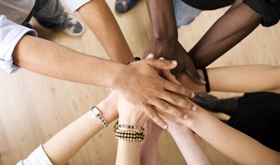 In 2016, the Board of Directors initiated a Diversity and Inclusion Committee, which is made up of Board members, parents, and faculty members. The Committee's goals include the following:

* Deepening dialogue among all groups of the school community (parents, faculty, staff, and students) in regards to defining diversity and inclusion and what value it holds for our school

* Strengthening our connections to the diverse communities of our island home

* Formulating ways to actively pursue, promote, and honor diversity and inclusion in our student body, Parents, Faculty, Administration, Board of Trustees, policies, literature, and curriculum

* Broadening our outreach to make enrollment accessible and welcoming to families underrepresented in the school, as a way to build a community that better reflects the local demographics of our island and the larger global community

HWS Diversity and Inclusion Statement

Enhancing the diversity and inclusion of our school community is a journey of both moral and educational importance, and a learning and growth experience for our whole community. We recognize that the richness inherent in an educational culture is comprised not only of the curriculum, but also of the community of parents, teachers and students who are learning about the world together. To this end, we are actively building a school that fosters a sense of belonging for everyone, furthers an understanding of our common humanity, and that represents our island community and the world in which we live.

Diversity and Inclusion Scholarship

With the aim of having Haleakalā Waldorf School better reflect our Maui community, as well as enriching the educational experiences of each of our students, the Board of Directors has initiated a Diversity & Inclusion Committee for the 2018-2019 academic year. Scholarship funds have been set aside to support and encourage unrerrepresented families to join our school community, To learn more and apply, please contact @waldorfmaui.org.

Please check back here for upcoming events, scholarship opportunities, and updates regarding the Committee's ongoing efforts. Or contact the committee at:

The HWS Diversity Scholarship is awarded to children who are currently underrepresented in our school community and who demonstrate financial need. Families who self-identify as Native Hawaiian, Pacific Islander, Hispanic, Latino, Black, African American or American Indian are encouraged to apply. In determining financial awards, the HWS Diversity Committee and administration will prioritize:

Students of Native Hawaiian heritage
Students of multi-generation island heritage
Students of underrepresented groups
Siblings of diversity scholarship students currently enrolled in our school
Students in 1st grade and above

How to Apply:

If you are interested in a Diversity Scholarship, please apply first for admission and then for financial aid at the following links:

1) https://www.waldorfmaui.org/52/apply-now

2) https://www.waldorfmaui.org/53/tuition-and-financial-aid

Limited funds are available for up to five students per year. Once a student has been awarded a Diversity Scholarship it will continue through to graduation as long as financial need is demonstrated.

Contact our Enrollment Coordinator, Hileka Lyons at 808-878-2511 or

hileka.lyons@waldorfmaui.org to begin the application process.