High School Curriculum
---
---
The rigor and depth of study in the High School requires a high level of expertise in each subject. Therefore, Haleakala Waldorf High School teachers are masters in their area of study and teach with deep knowledge, enthusiasm, and passion for their discipline.
The curriculum changes from grade to grade in developmental progression.
Ninth grade is a time to find balance between polarities;
Tenth grade is a time to apply logical thinking to compare theories;
Eleventh grade is a time to analyze philosophical riddles, ask the deepest questions, and master the tools of language;
Twelfth grade is a time to synthesize and find meaning.
The Morning Lesson is a special feature of the Haleakala Waldorf High School curriculum. Here you delve into a subject for two full hours each day for a three-week block of time with a specialist morning lesson teacher. This concentrated period of time allows for the material to be studied in depth, without distractions, and for a variety of interesting topics to be studied every year. Morning Lessons are complemented by regular track skills classes in mathematics, English, arts and crafts, history, and athletics.
The High School Curriculum includes:
Grade Nine - Finding the Balance Between Extremes
English

: Comedy & Tragedy

History

: Art History, U.S. History, World Revolutions

Chemistry

: Organic

Physics

: Thermodynamics

Biology

: Anatomy & Physiology

Geoscience

: Geology

Mathematics

: Combinations & Permutations, Descriptive Geometry
For example Haleakala Waldorf High School students:
- manufacture chemical scents in an organic chemistry lab.
- enact scenes from great comedies and tragedies.
- identify minerals and study their uses.
- trace the unfolding of revolutions in history.
- develop the art of charcoal and pencil drawing.
- sculpt bones when studying anatomy.
-practice calligraphy and page layout.
---
Grade Ten - Developing the Tools of Comparison and Reason
English: Poetics
History: Ancient Greek History, Asian Art History
Chemistry: Acids & Bases
Physics: Mechanics
Biology: Botany
Geoscience: Meteorology
Mathematics: Surveying & Trigonometry
For example Haleakala Waldorf High School students:
- study the construction of bridges.
- interpret a weather map.
- develop subtle capacities for language through exploration of poetry.
- investigate the acid-base chemistry of cosmetics.
- develop the feeling of certainty by proving geometrical theorems.
- discover the emergence of reasoning and logic by tracing the evolution of human civilization from ancient times to Greece.
- paint with color and draw with pastels.
- create masks from world cultures.
-throw pots on a wheel.
-design and print their own logos.
---
Grade Eleven - Training the Power of Analysis

English:

Parzival,

Shakespeare, Dante

History:

Africa's Golden Age, t

he Islamic World, t

he Middle Ages, t

he Renaissance

Chemistry: Atomic Theory
Physics: E

lectricity & Magnetism

Biology: Embryology
Geoscience: A

stronomy, Geoscience of Windsurfing

Mathematics: Projective Geometry

​, Precalculus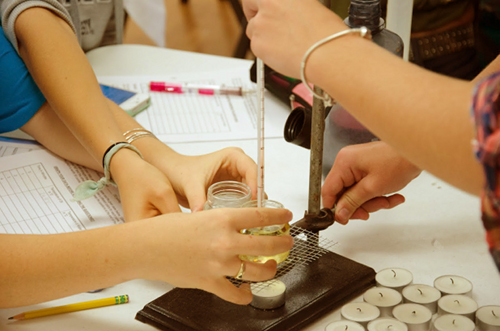 For example Haleakala Waldorf High School students:
- wire practical electric circuits.
- study the chemical elements and their uses.
- make a model of the solar system.
- encounter the legend of Parzival through active reading, creative writing, and artistic expression.
- trace humanity's search for meaning from the development of Rome to the enlightnment of the Romantic Poets.
- capture individuality in art through portrait painting and sculpture.
- design and create their own jewelry.
---
​Grade Twelve - Synthesizing and Finding Meaning
English:

Transcendentalists, Russian literature

History: A

rchitecture, Symptomatology: The Evolution of Human Consciousness

Chemistry: B

io & EChemistry

Physics: O

ptics

Biology: Z

oology

Geoscience: Applied Transdiciplinary Geoscience
Mathematics: Integral Calculus
For example Haleakala Waldorf High School students:
- study DNA sequencing and how the human genome is deciphered.
- trace the development of atomic theory to modern particle physics.
- mix colored lights in stage design, applying knowledge of optics.
- investigate the origins of the human being through fossil evidence.
- explore the questions of the Transcendentalists: What are the tasks and aims of the present civilization? How can we develop a personal spirituality that enlivens culture?
- comprehend current events and economics in the context of Symptomatology.
- choose individualized personal art projects, such as building Raku pottery.
- develop a Senior Project & Presentation that highlights their unique perspectives and passions.
- analyze how an automobile engine works.
- draft architectural drawings.
---
Extra-Curricular Activities
Haleakala Waldorf High School encourages students to pursue a wide range of extra-curricular activities such as debate, drama, sports, community service, publishing literary magazines and yearbooks, exploring robotics, organic gardening, and pursuing environmental concerns. Teamwork and fundamental skills are stressed in sports in addition to individual achievement.
Haleakala Waldorf High School expands the boundaries of the classroom and offers students exciting opportunities to spread their wings in a new way - to learn and work off campus. Learning partnerships with various local companies, local environmental stewardship organizations, artists, entrepreneurs, and organic farmers allow students to deepen and enrich their overall learning experience, build community, and gain real-world experience and confidence.
For more information, please follow this link to our admissions page.
---
SaveSave
SaveSave
SaveSave
SaveSave
SaveSave