Pueo & Nene Kindergarten
---
The Kindergarten experience provides a deep foundation as well as a readiness and an eagerness for the academics that follow in the grades.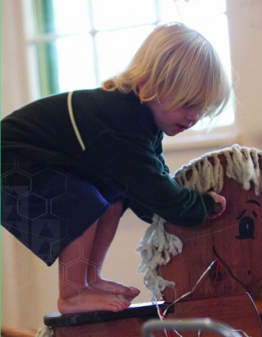 In morning circle, the child learns to enjoy the sounds of language, to share through socializing games, and to achieve coordination and balance through a variety of rhythmical activities.
Each child moving from kindergarten to first grade hand sews a baby doll and a blanket and participates in a beautiful ceremony marking the child's passage into their next developmental stage.
At Haleakala Waldorf School, we offer two kindergartens. Each kindergarten serves up to 22 children per day on a five day per week program, 8:30 am to 2:30 pm. Applicants for the Nene and Pueo kindergartens should be "older" four year olds through five year olds. These children will move up to first grade when they are six by June 1st prior to going to first grade.
For more information, please follow this link to our admissions page.
---