Early Childhood
---
Many parents visiting Haleakalā Waldorf School's Early Childhood classes feel an instant, intuitive connection — often saying, "I wish I had gone to a school like this."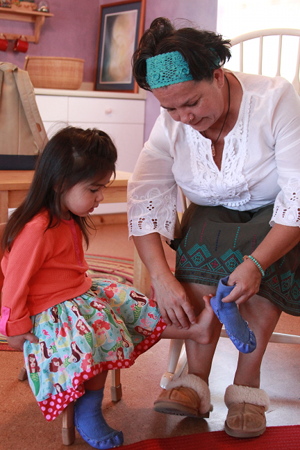 The room is warm, colorful, cared-for and filled with nature's beauty and variety—a place where children can let their imaginations roam while feeling reassured and protected.
The young child learns primarily through imagination, action and imitation, by seeing and doing. The goal of the Waldorf Early Childhood program is to develop a sense of wonder in the young child and reverence for all living things.
Participating in household tasks builds a sense of community as well as individual responsibility.
Our Waldorf Early Childhood programs provide a nurturing environment based on an understanding of the young child's special developmental needs before the age of seven.
We offer:
the Pulama Parent & Child Program for infants and toddlers accompanied by a parent (please see the special section for the Pulama Program details).
2 mixed-age preschools: the 'Apapane & I'iwi Preschool serving children between the ages of 2 to 4 years.
2 mixed-age kindergartens: Pueo & Nene Kindergarten serving children between the ages of 4 to 6 years.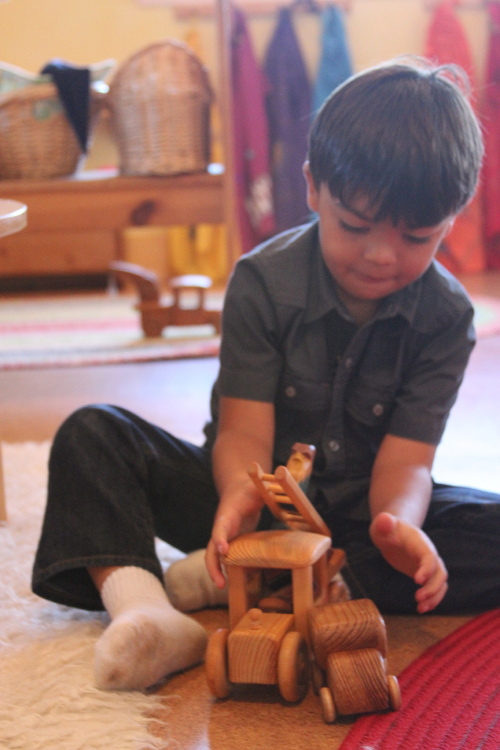 The mixed-age classrooms have the advantage of being like a large family; the older children benefit from providing a model for the younger ones and helping them along, while the little ones benefit from having role models at the next developmental stage to emulate. Another added benefit is the softness the younger ones bring to the older ones. As the children stay in one class for one or two years, those who were younger get to experience being the 'bigger' children at some point. The program is structured to provide age-appropriate activities for all children. As the class progresses in age and ability, teachers shift the activities to meet the changing needs of the group. The curriculum is designed so that children can learn from each other and each can develop at his or her own pace in a non-competitive setting. The mornings typically consist of creative play, an artistic activity, a story, singing, games and finger plays, snack, outside play and lunch. An emphasis on practical life skills, such as children once experienced in a home environment, allows the child's cognitive skills to unfold naturally. Along with vigorous, healthy play, these are the kinds of experiences that provide the nerve activity needed for higher learning in the areas of language development, dexterity, math skills, social skills, and creative thinking.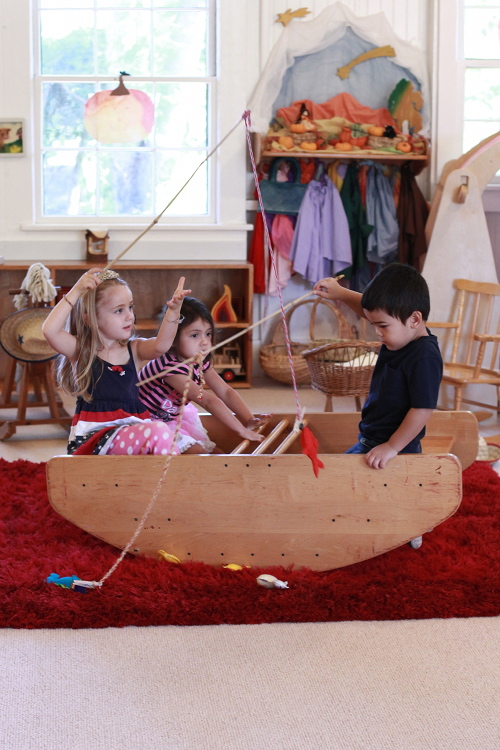 The Early Childhood Department is looking for children and their families that are a good fit with our school and its philosophy of play based/nature oriented curriculum. Specifically, we are looking for families that want to enroll their children in our school all the way through high school in a long term relationship with the school and with the "co-parents" in your child's class.
To facilitate this we are looking for those who share our values and are interested in:
- Preserving a play-filled childhood for their child, in which "formal" academic instruction begins in first grade.
- Learning about child development and the stages of childhood within the Waldorf tradition.
- Helping to create a peace filled, kind, tolerant, media free, community environment allowing each child to safely unfold at his/her own pace.
- Creating a healthy and nurturing, rhythmical life at home that allows the young child to develop to their full potential in mind, body, and spirit.
For more information, please follow this link to our admissions page.
---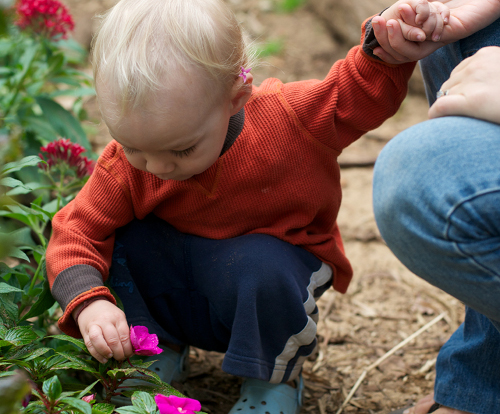 Pulama Parent and Child Program
Discover new ways to observe and understand your young child in a beautiful, home-like infant/toddler center called the Pulama Parent & Child Program for families with young children. The Pulama Parent & Child Program, facilitated by Wendy Patterson, provides children with a safe and nurturing nursery environment while offering parents the opportunity to be inspired, supported, and transformed in their day to day interactions with their young child. All classes are held in a classroom designed to replicate the warm atmosphere of a home at the school's Kula campus.
Session Days and Time:
Mondays, Thursdays or Fridays 9:00-11:00am
The Pulama Bridge Program
The Pulama Bridge class at Haleakalā Waldorf School is designed to help young children (2 - 3 1/2 years of age) to mature socially while meeting their changing needs as they transition into the early childhood years. Parents or caregivers will accompany their children for the first few sessions of the school year; then, as the children become more comfortable and confident in their surroundings, adults will be encouraged to transition out of the classroom setting. The children's day will follow a natural rhythm of circle time, indoor play, organic snack and outdoor activity. This new class offering, held in Haleakalā School's unique Waldorf early childhood setting, is the perfect opportunity to provide young children an environment that enhances healthy social relations.
Session Days and Time:
Session 1: August - December, Tuesday and Wednesday from 8:15 – 12:15
Session 2: January - May, Tuesday and Wednesday from 8:15 – 2:15
Call 878-2511 for more information.
---
The 'Apapane Preschool Program
The 'Apapane preschool serves ages 2 1/2 to 4. Three and five day programs are offered from 8:30 am to 2:30 pm. Children ages 2 1/2 (by June 1st) up to 4 years old are eligable to enter the program. All children should be weaned and potty trained.
Children develop the capacity for creative thinking, problem-solving and social interaction through their free imaginative play.
The equipment provided at HWS is simple and made of beautiful, natural materials, so that a child's imagination can be stimulated. For example, a length of silk fabric may become the king's cape, a tent for travelers, or a tablecloth for tea.
Celebration and rhythm are also important aspects of the young child's daily experience. Each day's activities include creative play, morning circle (including socializing games and rhythmical activities developing coordination and balance), and storytelling time.
The yearly rhythm of festivals and holidays provides many important celebrations in the preschool enriching the early childhood experience and creating a bridge from home to school.
For more information, please follow this link to our admissions page.
---
The Kindergarten experience provides a deep foundation as well as a readiness and an eagerness for the academics that follow in the grades.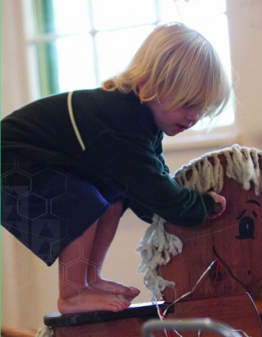 In morning circle, the child learns to enjoy the sounds of language, to share through socializing games, and to achieve coordination and balance through a variety of rhythmical activities.
Each child moving from kindergarten to first grade hand sews a baby doll and a blanket and participates in a beautiful ceremony marking the child's passage into their next developmental stage.
At Haleakalā Waldorf School, we offer two kindergartens. Each kindergarten serves up to 22 children per day on a five day per week program, 8:30 am to 2:30 pm. Applicants for the Nene and Pueo kindergartens should be "older" four year olds through five year olds. These children will move up to first grade when they are six by June 1st prior to going to first grade.
For more information, please follow this link to our admissions page.
---